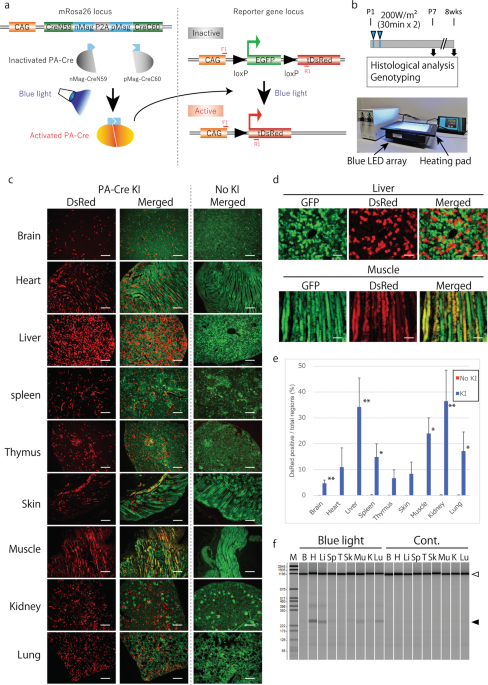 1.
Birling MC, Gofflot F, Warot X. Site-specific recombinases for manipulation of the mouse genome. Methods Mol Biol. 2009;561:245–63.
2.
Kim H, Kim M, Im SK, Fang S. Mouse Cre-LoxP system: general principles to determine tissue-specific roles of target genes. Lab Anim Res. 2018;34:147–59.
3.
Lewandoski M. Conditional control of gene expression in the mouse. Nat Rev Genet. 2001;2:743–55.
4.
Chen D, Wu CF, Shi B, Xu YM. Tamoxifen and toremifene cause impairment of learning and memory function in mice. Pharmacol Biochem Behav. 2002;71:269–76.
5.
Roshangar L, Rad JS, Afsordeh K. Maternal tamoxifen treatment alters oocyte differentiation in the neonatal mice: inhibition of oocyte development and decreased folliculogenesis. J Obstet Gynaecol Res. 2010;36:224–31.
6.
Heffner CS, Herbert Pratt C, Babiuk RP, Sharma Y, Rockwood SF, Donahue LR, et al. Supporting conditional mouse mutagenesis with a comprehensive Cre characterization resource. Nat Commun. 2012;3:1218.
7.
Leopold AV, Chernov KG, Verkhusha VV. Optogenetically controlled protein kinases for regulation of cellular signaling. Chem Soc Rev. 2018;47:2454–84.
8.
Liu Q, Tucker CL. Engineering genetically-encoded tools for optogenetic control of protein activity. Curr Opin Chem Biol. 2017;40:17–23.
9.
Nihongaki Y, Kawano F, Nakajima T, Sato M. Photoactivatable CRISPR-Cas9 for optogenetic genome editing. Nat Biotechnol. 2015;33:755–60.
10.
Yamada M, Suzuki Y, Nagasaki SC, Okuno H, Imayoshi I. Light control of the Tet gene expression system in mammalian cells. Cell Rep. 2018;25:487–500.e6.
11.
Jung H, Kim SW, Kim M, Hong J, Yu D, Kim JH, et al. Noninvasive optical activation of Flp recombinase for genetic manipulation in deep mouse brain regions. Nat Commun. 2019;10:314.
12.
Kawano F, Okazaki R, Yazawa M, Sato M. A photoactivatable Cre-loxP recombination system for optogenetic genome engineering. Nat Chem Biol. 2016;12:1059–64.
13.
Schindler SE, McCall JG, Yan P, Hyrc KL, Li M, Tucker CL, et al. Photo-activatable Cre recombinase regulates gene expression in vivo. Sci Rep. 2015;5:13627.
14.
Taslimi A, Zoltowski B, Miranda JG, Pathak GP, Hughes RM, Tucker CL. Optimized second-generation CRY2-CIB dimerizers and photoactivatable Cre recombinase. Nat Chem Biol. 2016;12:425–30.
15.
Kawano F, Suzuki H, Furuya A, Sato M. Engineered pairs of distinct photoswitches for optogenetic control of cellular proteins. Nat Commun. 2015;6:6256.
16.
Sinha DK, Neveu P, Gagey N, Aujard I, Le Saux T, Rampon C, et al. Photoactivation of the CreER T2 recombinase for conditional site-specific recombination with high spatiotemporal resolution. Zebrafish. 2010;7:199–204.
17.
Morikawa K, Furuhashi K, de Sena-Tomas C, Garcia-Garcia AL, Bekdash R, Klein AD, et al. Photoactivatable Cre recombinase 3.0 for in vivo mouse applications. Nat Commun. 2020;11:2141.
18.
Yoshimi K, Kunihiro Y, Kaneko T, Nagahora H, Voigt B, Mashimo T. ssODN-mediated knock-in with CRISPR-Cas for large genomic regions in zygotes. Nat Commun. 2016;7:10431.
19.
Hasegawa Y, Daitoku Y, Sekiguchi K, Tanimoto Y, Mizuno-Iijima S, Mizuno S, et al. Novel ROSA26 Cre-reporter knock-in C57BL/6N mice exhibiting green emission before and red emission after Cre-mediated recombination. Exp Anim. 2013;62:295–304.
20.
Lee HS, Cui L, Li Y, Choi JS, Choi JH, Li Z, et al. Influence of light emitting diode-derived blue light overexposure on mouse ocular surface. PLoS ONE. 2016;11:e0161041.
21.
Akagi K, Sandig V, Vooijs M, Van der Valk M, Giovannini M, Strauss M, et al. Cre-mediated somatic site-specific recombination in mice. Nucleic Acids Res. 1997;25:1766–73.
22.
Danielian PS, Muccino D, Rowitch DH, Michael SK, McMahon AP. Modification of gene activity in mouse embryos in utero by a tamoxifen-inducible form of Cre recombinase. Curr Biol. 1998;8:1323–6.
23.
DuPage M, Dooley AL, Jacks T. Conditional mouse lung cancer models using adenoviral or lentiviral delivery of Cre recombinase. Nat Protoc. 2009;4:1064–72.
24.
Suda T, Liu D. Hydrodynamic gene delivery: its principles and applications. Mol Ther. 2007;15:2063–9.
25.
Werfel S, Jungmann A, Lehmann L, Ksienzyk J, Bekeredjian R, Kaya Z, et al. Rapid and highly efficient inducible cardiac gene knockout in adult mice using AAV-mediated expression of Cre recombinase. Cardiovasc Res. 2014;104:15–23.
26.
Muzumdar MD, Tasic B, Miyamichi K, Li L, Luo L. A global double-fluorescent Cre reporter mouse. Genesis. 2007;45:593–605.
27.
Prigge JR, Wiley JA, Talago EA, Young EM, Johns LL, Kundert JA, et al. Nuclear double-fluorescent reporter for in vivo and ex vivo analyses of biological transitions in mouse nuclei. Mamm Genome. 2013;24:389–99.
28.
Song J, Xu Y, Hu X, Choi B, Tong Q. Brain expression of Cre recombinase driven by pancreas-specific promoters. Genesis. 2010;48:628–34.
29.
Wicksteed B, Brissova M, Yan W, Opland DM, Plank JL, Reinert RB, et al. Conditional gene targeting in mouse pancreatic ss-Cells: analysis of ectopic Cre transgene expression in the brain. Diabetes. 2010;59:3090–8.
30.
Delerue F, White M, Ittner LM. Inducible, tightly regulated and non-leaky neuronal gene expression in mice. Transgenic Res. 2014;23:225–33.
31.
Dobrovolsky VN, Heflich RH. On the use of the T-REx tetracycline-inducible gene expression system in vivo. Biotechnol Bioeng. 2007;98:719–23.
32.
Liu X, Zhou Q, Lin H, Wu J, Wu Z, Qu S, et al. The protective effects of blue light-blocking films with different shielding rates: a rat model study. Transl Vis Sci Technol. 2019;8:19.
33.
Vicente-Tejedor J, Marchena M, Ramirez L, Garcia-Ayuso D, Gomez-Vicente V, Sanchez-Ramos C, et al. Removal of the blue component of light significantly decreases retinal damage after high intensity exposure. PLoS ONE. 2018;13:e0194218.
34.
Yamagishi K, Kirino I, Takahashi I, Amano H, Takeoka S, Morimoto Y, et al. Tissue-adhesive wirelessly powered optoelectronic device for metronomic photodynamic cancer therapy. Nat Biomed Eng. 2019;3:27–36.
35.
Nihongaki Y, Furuhata Y, Otabe T, Hasegawa S, Yoshimoto K, Sato M. CRISPR-Cas9-based photoactivatable transcription systems to induce neuronal differentiation. Nat Methods. 2017;14:963–6.
36.
Nihongaki Y, Otabe T, Ueda Y, Sato M. A split CRISPR-Cpf1 platform for inducible genome editing and gene activation. Nat Chem Biol. 2019;15:882–8.