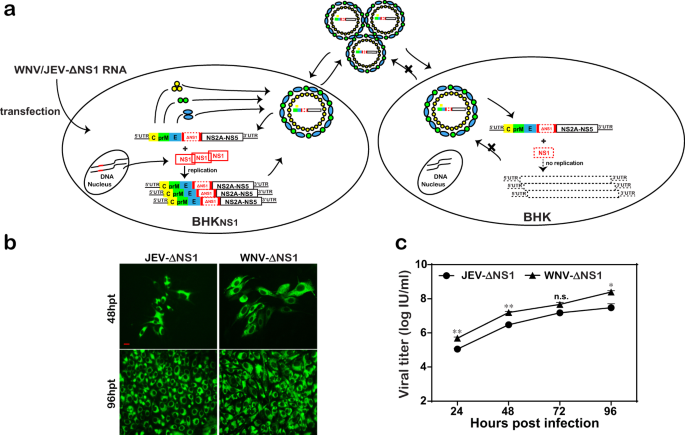 1.
Li, S. H. et al. Cross protection against lethal West Nile virus challenge in mice immunized with recombinant E protein domain III of Japanese encephalitis virus. Immunol. Lett.138, 156–160 (2011).
2.
Misra, U. K. & Kalita, J. Movement disorders in Japanese encephalitis. J. Neurol.244, 299–303 (1997).
3.
Rashmi Kumar, P. T., Singh, S. & Bannerji, G. Clinical features in children hospitalized during the 2005 epidemic of Japanese encephalitis in Uttar Pradesh, India. Clin. Infect. Dis.43, 123–131 (2006).
4.
Martina, B. E. et al. Immunization with West Nile virus envelope domain III protects mice against lethal infection with homologous and heterologous virus. Vaccine26, 153–157 (2008).
5.
Murgod, U. A., Muthane, U. B., Ravi, V., Radhesh, S. & Desai, A. Persistent movement disorders following Japanese encephalitis. Neurology57, 2313–2315 (2001).
6.
World Health Organization. Japanese encephalitis. https://www.who.int/news-room/fact-sheets/detail/japanese-encephalitis (2019).
7.
Lobigs, M. et al. An inactivated Vero cell-grown Japanese encephalitis vaccine formulated with Advax, a novel inulin-based adjuvant, induces protective neutralizing antibody against homologous and heterologous flaviviruses. J. Gen. Virol.91, 1407–1417 (2010).
8.
Appaiahgari, M. B. & Vrati, S. Immunogenicity and protective efficacy in mice of a formaldehyde-inactivated Indian strain of Japanese encephalitis virus grown in Vero cells. Vaccine22, 3669–3675 (2004).
9.
Li, J. et al. Characterization of immune responses induced by inactivated, live attenuated and DNA vaccines against Japanese encephalitis virus in mice. Vaccine31, 4136–4142 (2013).
10.
Yun, S. I. et al. Comparison of the live-attenuated Japanese encephalitis vaccine SA14-14-2 strain with its pre-attenuated virulent parent SA14 strain: similarities and differences in vitro and in vivo. J. Gen. Virol.97, 2575–2591 (2016).
11.
Yu, Y. Phenotypic and genotypic characteristics of Japanese encephalitis attenuated live vaccine virus SA14-14-2 and their stabilities. Vaccine28, 3635–3641 (2010).
12.
Monath, T. P. et al. Chimeric yellow fever virus 17D-Japanese encephalitis virus vaccine: dose-response effectiveness and extended safety testing in rhesus monkeys. J. Virol.74, 1742–1751 (2000).
13.
Guirakhoo, F. et al. Immunogenicity, genetic stability and protective efficacy of a recombinant, chimeric yellow fever-Japanese encephalitis virus (Chimerivax™-JE) as a live, attenuated vaccine candidate against Japanese encephalitis. Virology257, 363–372 (1999).
14.
Chambers, T. J., Nestorowicz, A., Mason, P. W., Eckels, K. H. & Rice, C. M. Yellow fever/Japanese encephalitis chimeric viruses: construction and biological properties. J. Virol.73, 3095–3101 (1999).
15.
Eckels, K. H., Yu, Y. X., Dubois, D. R., Marchette, N. J. & Trent, D. W. Japanese encephalitis virus live-attenuated vaccine, Chinese strain SA14-14-2; adaptation to primary canine kidney cell cultures and preparation of a vaccine for human use. Vaccine6, 513–518 (1988).
16.
Yang, D. et al. Characterization of live-attenuated Japanese encephalitis vaccine virus SA14-14-2. Vaccine32, 2675–2681 (2014).
17.
Li, N. et al. Replication-defective West Nile virus with NS1 deletion as a new vaccine platform for flavivirus. J. Virol.93, e00720–00719 (2019).
18.
Koning, L. J. & van der Meer, C. The cause of death of Palaemonetes varians (Leach, 1814) treated with cholinesterase inhibitors. Comp. Biochem. Physiol. C51, 73–77 (1975).
19.
Kimura, T. et al. Characterization of Japanese encephalitis virus infection in an immortalized mesencephalic cell line, CSM14.1. Microbiol. Immunol.57, 723–731 (2013).
20.
Jain, N. et al. CD8 T cells protect adult naive mice from JEV-induced morbidity via lytic function. PLoS Negl. Trop. Dis.11, e0005329 (2017).
21.
Rastogi, M., Sharma, N. & Singh, S. K. Flavivirus NS1: a multifaceted enigmatic viral protein. Virol. J.13, 131 (2016).
22.
Khromykh, A. A., Sedlak, P. L., Guyatt, K. J., Hall, R. A. & Westaway, E. G. Efficient trans-complementation of the flavivirus kunjin NS5 protein but not of the NS1 protein requires its coexpression with other components of the viral replicase. J. Virol.73, 10272–10280 (1999).
23.
Lindenbach, B. D. & Rice, C. M. trans-Complementation of yellow fever virus NS1 reveals a role in early RNA replication. J. Virol.71, 9608–9617 (1997).
24.
Muylaert, I. R., Chambers, T. J., Galler, R. & Rice, C. M. Mutagenesis of the N-linked glycosylation sites of the yellow fever virus NS1 protein: effects on virus replication and mouse neurovirulence. Virology222, 159–168 (1996).
25.
Muylaert, I. R., Galler, R. & Rice, C. M. Genetic analysis of the yellow fever virus NS1 protein: identification of a temperature-sensitive mutation which blocks RNA accumulation. J. Virol.71, 291–298 (1997).
26.
Schlesinger, J. J., Brandriss, M. W. & Walsh, E. E. Protection of mice against dengue 2 virus encephalitis by immunization with the dengue 2 virus non-structural glycoprotein NS1. J. Gen. Virol.68(Pt 3), 853–857 (1987).
27.
Falgout, B., Bray, M., Schlesinger, J. J. & Lai, C. J. Immunization of mice with recombinant vaccinia virus expressing authentic dengue virus nonstructural protein NS1 protects against lethal dengue virus encephalitis. J. Virol.64, 4356–4363 (1990).
28.
Avirutnan, P. et al. Vascular leakage in severe dengue virus infections: a potential role for the nonstructural viral protein NS1 and complement. J. Infect. Dis.193, 1078–1088 (2006).
29.
Chung, K. M. et al. West Nile virus nonstructural protein NS1 inhibits complement activation by binding the regulatory protein factor H. Proc. Natl Acad. Sci. USA103, 19111–19116 (2006).
30.
Chung, K. M. et al. Antibodies against West Nile Virus nonstructural protein NS1 prevent lethal infection through Fc gamma receptor-dependent and -independent mechanisms. J. Virol.80, 1340–1351 (2006).
31.
Grubor-Bauk, B. et al. NS1 DNA vaccination protects against Zika infection through T cell-mediated immunity in immunocompetent mice. Sci. Adv.5, eaax2388 (2019).
32.
Tyler, K. L. Current developments in understanding of West Nile virus central nervous system disease. Curr. Opin. Neurol.27, 342–348 (2014).
33.
Anukumar, B., Sapkal, G. N., Tandale, B. V., Balasubramanian, R. & Gangale, D. West Nile encephalitis outbreak in Kerala, India, 2011. J. Clin. Virol.61, 152–155 (2014).
34.
Lu, Z. et al. Human infection with West Nile Virus, Xinjiang, China, 2011. Emerg. Infect. Dis.20, 1421–1423 (2014).
35.
Cao, L. et al. Detection of West Nile virus infection in viral encephalitis cases, China. Vector Borne Zoonotic Dis.19, 45–50 (2019).
36.
Lobigs, M. & Diamond, M. S. Feasibility of cross-protective vaccination against flaviviruses of the Japanese encephalitis serocomplex. Expert Rev. Vaccines11, 177–187 (2012).
37.
Bosco-Lauth, A., Mason, G. & Bowen, R. Pathogenesis of Japanese encephalitis virus infection in a golden hamster model and evaluation of flavivirus cross-protective immunity. Am. J. Trop. Med. Hyg.84, 727–732 (2011).
38.
Lobigs, M., Larena, M., Alsharifi, M., Lee, E. & Pavy, M. Live chimeric and inactivated Japanese encephalitis virus vaccines differ in their cross-protective values against Murray Valley encephalitis virus. J. Virol.83, 2436–2445 (2009).
39.
Goverdhan, M. K., Kulkarni, A. B., Gupta, A. K., Tupe, C. D. & Rodrigues, J. J. Two-way cross-protection between West Nile and Japanese encephalitis viruses in bonnet macaques. Acta Virol.36, 277–283 (1992).
40.
Tesh, R. B., Travassos da Rosa, A. P., Guzman, H., Araujo, T. P. & Xiao, S. Y. Immunization with heterologous flaviviruses protective against fatal West Nile encephalitis. Emerg. Infect. Dis.8, 245–251 (2002).
41.
Takasaki, T. et al. Partial protective effect of inactivated Japanese encephalitis vaccine on lethal West Nile virus infection in mice. Vaccine21, 4514–4518 (2003).
42.
Tang, F. et al. Failure of Japanese encephalitis vaccine and infection in inducing neutralizing antibodies against West Nile virus, People's Republic of China. Am. J. Trop. Med. Hyg.78, 999–1001 (2008).
43.
Yamshchikov, G. et al. The suitability of yellow fever and Japanese encephalitis vaccines for immunization against West Nile virus. Vaccine23, 4785–4792 (2005).
44.
Kanesa-Thasan, N., Putnak, J. R., Mangiafico, J. A., Saluzzo, J. E. & Ludwig, G. V. Short report: absence of protective neutralizng antibodies to West Nile virus in subjects following vaccination with Japanese encephalitis or dengue vaccines. Am. J. Trop. Med. Hyg.66, 115–116 (2002).
45.
Petrovsky, N. et al. An inactivated cell culture Japanese encephalitis vaccine (JE-ADVAX) formulated with delta inulin adjuvant provides robust heterologous protection against West Nile encephalitis via cross-protective memory B cells and neutralizing antibody. J. Virol.87, 10324–10333 (2013).
46.
Zhang, H. L. et al. Generation and characterization of West Nile pseudo-infectious reporter virus for antiviral screening. Antivir. Res.141, 38–47 (2017).
47.
Li, X. D. et al. Recovery of a chemically synthesized Japanese encephalitis virus reveals two critical adaptive mutations in NS2B and NS4A. J. Gen. Virol.95, 806–815 (2014).
48.
Zhang, P. T. et al. Generation of a recombinant West Nile virus stably expressing the Gaussia luciferase for neutralization assay. Virus Res.211, 17–24 (2016).
49.
Shi, P. Y., Tilgner, M., Lo, M. K., Kent, K. A. & Bernard, K. A. Infectious cDNA clone of the epidemic west nile virus from New York City. J. Virol.76, 5847–5856 (2002).
50.
Zhang, Y. N. et al. Infectious chikungunya virus (CHIKV) with a complete capsid deletion: a new approach for a CHIKV vaccine. J. Virol.93, e00504–e00519 (2019).
51.
Zou, G. et al. Exclusion of West Nile virus superinfection through RNA replication. J. Virol.83, 11765–11776 (2009).